Welcome
The Mella + Menzi AG company (founded in 1956) is your specialist in spraying, casting, concreting, bricking, tamping and welding for different fields:
Overall construction of industrial furnace installations: planning and execution

New development in general industrial furnace manufacture, consultation and repair

Expert reporting through trained personnel
The Mella + Menzi AG company is equipped with the most up-to-date machines and tools and can back you up, even in special situations.
Should you prefer to manufacture the furnace chassis on your own, we will support you with calculations and drawings, as well as consultation for burners, control and charging.
Our systems are suitable for:
Gas-fired drying ovens

Sludge-drying ovens

Reactors

Incinerator furnaces (implemented with different plate systems)

Melting furnaces and electric furnaces

Hot-dip galvanizing baths

Furnaces for waste oil and chemical waste products

Heating and forging furnaces (complete according to individual system)
We guarantee expert implementation in the areas above.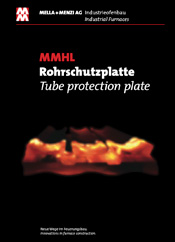 Innovations in furnace construction with the MMHL tube protection plate.(catalog)